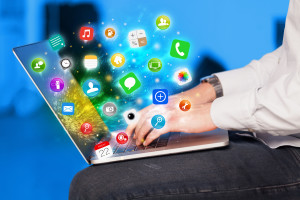 Short videos are a universally popular form of media. With today's short attention spans and busy schedules, few people have time to read an email or traditional advertisement. Short videos give you a platform to send your message, in a compact, efficient package which people will actually engage with. If you haven't gotten on the short video bandwagon yet, now's the time to start.
Where to share your video
You have many platform options for sharing your marketing video, depending on its length. Here are options:
Vine (6-second videos)
Instagram (15-second Instavids)
Facebook (2-3 minutes long)
Google+ news feeds
Pinterest pins
LinkedIn Professional Portfolio videos
Each of these platforms has its own personality, and each has its pluses and minuses. Try to identify which platforms are best for your brand. The most popular vines, for example, tend to be humorous. If you're not aiming for a light, comical tone, Vine might not be your best platform.
Short Video Content
There is an endless array of options for short videos when it comes to content. However, here are some ideas to get you started:
"Show and tell video". Use a voice-over format, wherein the voice explains the product while viewers can focus on images and footage of your product. This way, you let the product speak more or less for itself. Alternatively, you can do a how-to demonstration, wherein the main actor demonstrates and explains step-by-step how to use or assemble your product.
Crowdsource video. This is a great way to invite engagement. You can even pair this with a contest for more participation. Invite customers to upload photos or video clips of themselves using one of your products in a certain setting, then combine them to create a montage of real testimonials.
If you are in the business of selling or advertising space, use 360 degree videos to show off your goods. Alternatively, you can tour your production facilities, officers, or other parts of your business which are usually off-screen. People love to get an "insider's look" at how companies work.
Interviews with employees. This the same "behind-the-scenes" marketing tactic that customers love. Interview your top employees, or your most interesting ones.
Do a "live cam" video stream of your office or production. Focus on a particularly interesting part of the office, or even do a mobile live stream "day in the life" from a first person POV perspective.
Video customer testimonials. Interview real customers and ask them why they use your product and what they like best about it.
Timelapses. Timelapses are an easy way to make a visually-enticing short video. Show off the process of the creation of one of your products, or the use of said product start to finish.
Additional Tips
While you're shooting, snap away with those iPhones and cameras! These shots are great "behind-the-scenes" fodder for Instagram and Facebook. You can use the photos to build up momentum for the actual video release.
Make things funny! The videos most likely to go viral are comical ones. Even if your company has a serious tone, bringing some humor into the mix will make your company more relatable to customers.
Keep videos short. Most customers will have neither the time nor desire to watch a long video—anything past the 4:00 minute mark tends to turn people off. Videos between 2-3 minutes hit the sweet spot. Focus on substance over length.
Pair short videos with events or promotions. If you have something big going on it, make it bigger with a video! Similarly, if there is a holiday upcoming, get the jump on a season or celebration by posting short video content that's specially prepped for sharing. Others in your industry will be looking for seasonal content to share, too, so you'll get an extra visibility boost.